Men Helping Men Fellowship Forum

Behold, how good and how pleasant it is for brethren to dwell together in unity!
It is like the precious ointment upon the head, that ran down upon the beard, even Aaron's beard: that went down to the skirts of his garments; As the dew of Hermon, and as the dew that descended upon the mountains of Zion: for there the LORD commanded the blessing, even life for evermore. Psalms 133:1-3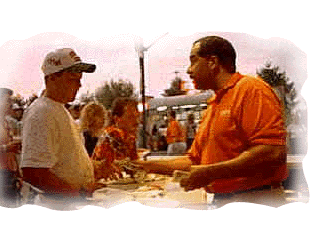 "A Force in the Community"

Bringing men together culturally, ethnically, and socially for spiritual and professional growth and success in the home, in the church, on the job and in the community.
---
Tired of the humdrum of inactivity? Can't seem to get the training and awareness needed to make an impact in your community? Need to know more about finances, computer technology, counseling, leadership, job search or industry trends? Have professional knowledge that you would like to share but don't have an audience? If you are plagued by these concerns and would like to make a difference, not only in your life but the lives of others, then come and share with us.
The Men Helping Men Fellowship is dedicated to helping men develop professionally and spiritually, so as to be a force in four dimensions: Home, Church, Job and Community.
---
Our purpose is to bring men together for a time of sharing, understanding and developing our role and character as men in the body of Christ, in the home, on the job, and in the community.
Our goal is to build a fellowship of men from various cultures, professions, communities and churches and solicit and identify skills held by each for the instruction and edification of others, that we all might learn and grow as a result. Skills are not necessarily limited to spiritual matters but will be geared toward the professional development of character, relationships, healing (physically and mentally) and spiritual growth.
Our objective is to meet on the 2nd Saturday of each month for fellowship, building structure and sharing information designed for our total development and spiritual edification.
---
Please join us in our quest to promote spiritual and professional development while building a forum of men committed to excellence and the welfare of others.
---
***Please check our calendar for more information!